Team
Team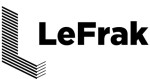 LeFrak is a preeminent, family-owned property company committed to community development and sustainability. Our principles, consistently applied, have strengthened and deepened the expertise that supports our real estate leadership. Our roots in residential properties go back to our founding. Today LeFrak is one of the largest privately held real estate holders in the country. From New York and New Jersey to California, Washington and Florida, we meet a variety of living needs with exceptionally high-quality options.
Beginning in 2007, and increasing our presence in the Los Angeles area ever since, LeFrak has invested in and continues to own a dozen substantial commercial and residential properties located in Koreatown, Hollywood, Beverly Hills and Malibu.
An office property owned by LeFrak and managed by Kennedy Wilson, 7060 Hollywood won the BOMA Greater Los Angeles 2013 Outstanding Building of the year (TOBY) Award for commercial properties of 100,000 – 249,999 sq ft. The TOBY Awards Program has been identified as the most prestigious of its kind in the commercial real estate industry.
www.lefrak.com

.
Founded in 1977, Kennedy Wilson is a vertically integrated global real estate investment and services company headquartered in Beverly Hills, CA, with 24 offices in the U.S., U.K., Ireland, Spain and Japan. The company, on its own or with partners, invests in a variety of real estate related investments, including commercial, multifamily, loan purchases and originations, residential, and hotels. Kennedy Wilson offers a comprehensive array of real estate services including investment management, property services, auction, conventional sales, brokerage and research.